PLEASE consider contributing to the long-term health and success of the Waldo Hub and help us provide the best facilities by donating to one of our Capital Campaigns;
Community Kitchen Equipment: Hobart 40qt Mixer, Double gas Ovens, Gas range, Dishwasher, Stainless tables, 1 Cooler, 1 Freezer, Ice machine, rolling racks & trays, temp/proofing cabinet. We are installing almost $35,000 in new equipment.
Big Room A/V upgrades: Projector and surround audio inc. new main house speakers. Room acoustic treatment.
IMA/V Studio upgrades (Rode Podcaster, A/V Mixer, Upgrade Yamaha Mixer, acoustic treatment, vocal mics),
Garden & Greenhouse: 18 garden beds and a 20'x40′ greenhouse.
Handicap ramp and new entryway.  The west side of the Hub building includes modifications and new enlarged doorways and wheelchair ramp additions to enhance access.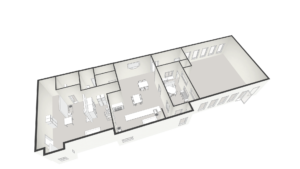 The Waldo Hub is a 501(C)3 tax-exempt public charity and donations are tax deductible.
Mail Support to:
Waldo Hub  7600 Wornall Road Kansas City, MO 64114.
Help us Today to make a better Tomorrow. Thank You!