How can nonprofits, neighborhood individuals and families specifically utilize and benefit from the Waldo Hub?
Opening in Summer of 2022.
We anticipate hosting a WIDE VARIETY of events, from workshops, traveling exhibits and performances, to pop-up retail stores and ghost banquets.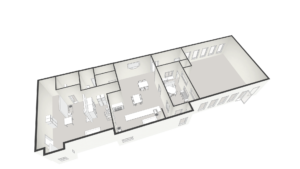 Our functional areas will include:
Our electronic media studio will help members create podcasts or design social media content.
And our community kitchen will support everything from fundraising banquets and cocktail parties to small family celebrations and surprise ghost kitchen culinary events.