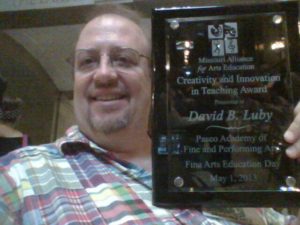 Director
MFA, Educator (retired KCPS teacher) and Founder & Artistic Director Gorilla Theater Productions (1989-2016).
Originally from Ogden, Utah, Mr. Luby received his BFA degree in Production Design from the University of Utah with a minor in Film Production.  He moved to Kansas City in '84 to pursue his Masters in Professional Theatre Training at University of Missouri-Kansas City, earning his Master of Fine Arts degree in Directing/Acting.  He was founder, President and Artistic Director of Gorilla Theatre Productions Performing Artists Institute, a non-profit arts organization serving the Greater Kansas City community from 1989-2016.  Luby and Gorilla produced annual Greek dramas on the steps of Nelson-Atkins at sunrise every Summer Solstice over 20 years.
Mr. Luby taught theatre and technical theatre, as well as acting, technical director and designer at Paseo Academy of the Fine and Performing Arts from 2001-2017.  Mr. Luby has also been the College Career Coordinator for the Theatre and Dance Conservatory and the Chair of the Community Partnership Committee. Mr. Luby was the Theatre Department Chair at Paseo for seven years and the faculty sponsor for Show-Me Arts, a student led advocacy group to lobby Representatives for Arts Education.
Charlotte Street Foundation Arts Pioneer, Mark Time Runyon Award w/ Paseo HS, Co-founder Just Off Broadway theater.